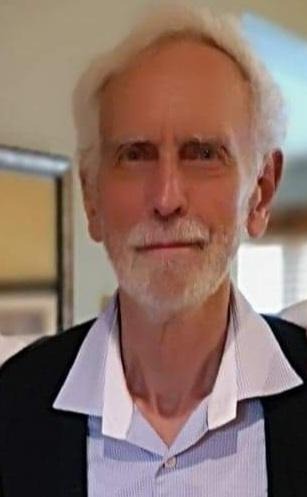 Christopher Reginald Marsh
February 18, 1942
-
November 6, 2022
Christopher Reginald Marsh, son of Reginald George Marsh and Pearl Marsh (nee White) passed away peacefully with family present on Sunday, November 6th 2022 at the Royal Alexandra Hospital in Edmonton, Alberta, Canada. He was 80 years old.
Chris passed from complications due to Dementia, while recovering from a heart attack. He was well cared for by his family and staff prior to his passing. He was much loved and will be dearly missed by his four children; Lisa, Steven, Peter and Kevin; ex-wife Patricia Ann Marsh (nee Gent); and 5 grandchildren Caelan and Sathya (Lisa's children) and Kirsten, Cerys and Isla (Peter's children)
Chris was born February 18th 1942 in Fareham, Hampshire, England. Undoubtedly growing up in a much damaged and indebted post-war England made its impression. However Chris had a stable upbringing with loving parents and close family ties on both sides of his family. His aunt and uncle, Wynn and Will Ayling and their children, his cousins, Pam and Tony. They lived next to Chris's family. His maternal grandparents lived close by in Portsmouth. Visits were made frequently.
His father and Uncle Will were business partners running the local men's outfitters in Fareham. His Aunt Wynn was a piano teacher and taught Chris to play to grade 8, the highest grade.
Chris complained about the lessons ,but this time probably led to his appreciation and love of classical music.
On his father's side of the family he was close to his grandmother and his father's youngest brother, Peter, who lived in the rural Hampshire Market town of Bishops Waltham. It was from this place his father and the Marsh family had hailed as market gardeners. This connection via his father to the rural idyll of Hampshire away from the conurbations of the City of Portsmouth and town of Fareham had a profound effect on Chris giving him his love of the countryside and nature. Many trips were made into the countryside for picnics with family or spent with his father fishing or collecting birds eggs or other natural specimens.
Academically Chris did well overall in his studies in school. He excelled in Science, earning a prize in Chemistry in A level. He took part in many sports: tennis, cricket ,football and field hockey.
As a young boy Chris was interested in nutrition, spurred by his mothers ill health. He adored his mother, Pearl. He was an only child, which led him to have a more solitary childhood.
His real passion, spurred by his mothers ill health was to become a Naturopathic Doctor. For financial reasons he chose differently and instead chose chemistry where he naturally excelled.
His aptitude for chemistry led him to complete a BSc in Chemistry in London. A Masters and PhD in Research Chemistry at Birmingham University in the Midlands in 1967.
It was whilst studying for his PhD that he met his future wife , Patricia Ann. Chris married Patricia Ann (nee Gent) in 1967 at the registry in Birmingham, England. During this time they had a daughter Lisa (1966) and a son ,Steven (1967)
Chris moved with Patricia and their two children, Lisa and Steven to Grangemouth, Scotland in 1968. A year or two later Peter (1969)and Kevin (1971) were born in Grangemouth. After a short tenure with ICI he was employed by British Petroleum (BP). He was a research chemist for BP for 12 years and was very successful in his work, earning several patents to his name.
Chris and Pat were avid walkers and explored the outdoor life to the full. Their children learned to walk in nature as young toddlers. As babies he would carry his children on his shoulders. There were many adventures as the kids grew up with their parents.
Favourite spots were: Tillicoutry, part of the Ochil Hills, South Queensferry on the Firth of Forth, castles, lochs in the Trossachs and glens in Dollar, hills in Perthshire, the Highlands and Inverness.
Chris was made redundant from British Petroleum in 1980, during the recession in the U.K. He was offered a position as a Senior Research Scientist in Syncrude Oil in Edmonton , Alberta, Canada in 1981.
Chris had to leave his family in Scotland a year ahead. He had to forge a new life on his own for his wife and children and his career. This took courage and conviction on his part.
Again he was successful in his role as a research chemist.
His family were proud of his achievements.
A year later his wife and family arrived in Sherwood park (1982), east of Edmonton to start a new life together. He worked a total of 10 years in Syncrude Oil. Retiring at 50 years old.
Chris set his own pace and rhythm of life. He was married to Pat (our mum) for 29 years in the UK and Alberta. They were divorced in 1996. He lived a much more solitary life with his cats there after.
Once his children had all left home to start their own lives, Chris would support his younger son Kevin with his cleaning business for many years. Chris lived alone with his 6 cats for the remaining years of his life. Often dragged out of his routine to visit his daughter and grandchildren in
Ontario for a month at a time, his son Steven and partner Zandra in Ottawa. He was included and encouraged into family reunions and weddings with his children. He also attended many family events at Christmas and Easter, with Kevin's wife, Debbie and her family. He was well loved and will be missed by the Sullivan sisters family; Judy, Penny, Len, Bonnie, Geoff, Bryan, LJ, Jen, Tricia, Jessica, Jayme and Lyndsey.
Chris started having memory problems 8 years before his diagnosis of Alzeimers Disease. His 4 children fully supported him in his last 2 years of life with his dementia.
He lived in the family home in Sherwood Park, Alberta for the rest of his living years, a total of 41 years, just over half of his lifetime.
He was an intelligent man. In his older years he maintained his deep interest in natural medicine. He raised his children as vegetarians. He was innately an introvert at heart, a man a few words, a quirky sense of humour, intuitive and observant. He was a man that did not follow the norm in life. He was not always easy to live with. He ruled the unruly rabble as a father to his young children with an air of authority and a plastic ruler in hand.
In his elderly years, Chris still loved the outdoors; walking daily, growing vegetables in the garden. He was an animal lover, especially cats. His love of cats started in his early childhood as a young boy. He had a favorite ginger cat, his best buddy. As an elderly adult in his own home in Sherwood Park he owned 6 cats: A mother (a stray) and her five kittens.
As Chris aged into his 70s and 80s he still liked to be active. He loved a game of ping pong with his younger son Kevin. He described him as a ping pong machine and more recently played pickle ball with his daughter and son in law, Keith in summer of 2021. Chris also enjoyed watching the NHL in his home and keeping an eye on his investments.
It could be said that Chris, our father, had two defining qualities.
The first would be his logical, inventive and creative mind. He read extensively books that he had a keen interest in which included technical and scientific data, but saying that he subscribed to a naturopathic newsletter on topics of wellness and roots to good health. He was not attracted to the light and fluffy, fictional books. He liked the facts. His inventive mind included ideas for a new vision of aircraft propulsion and a more efficient system for waste and recycling in Strathcona county.
The second quality, very often hidden behind the protective, crusty, Scientific exterior, was a very sensitive and caring nature. He had great empathy for animals in distress, the underdog, the misunderstood, and perhaps often identified himself in one of those categories in certain circumstances in his life. His favorite Movie was "A man for All Seasons" by Sir Thomas Moore. A man who would rather die than renounce his religious principles.
For all his facets Chris was a family man above all. Although not one to vocalize it often. He was happiest when his family were around him, whether out walking, gardening, driving all over Scotland for family outings. He was supportive financially to his children when any of them were in need. There can be no doubt that the efforts he made in his life were for the betterment of his family.
We, his family, are thankful for all his efforts that made our lives better and also for the love of this sensitive and caring man.