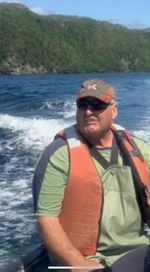 Roderick loveless
July 9, 1956
-
January 4, 2023
Roderick Wallace Loveless passed peacefully away at the Connaigre Peninsula Health Care Centre in Harbour Breton on Wednesday, January 4, 2023, age 66 years, of Seal Cove.
Roderick leaves to mourn with fond and loving memories, his family: wife, Norma, married 46 years; daughter, Jill (Justin Wells) at Sandyville; son, Mitchell (Sherry) at Bay de Verde; special grandchildren, Coby and Carson Loveless; brothers, Robert (Michelle) at Paradise, NL and Tim (Karen) at Seal Cove; sisters, Bernice Matthews, Peggy (Donald Eveleigh), all at Grand Bank and Jane (Colin Morris) at Hermitage; brothers in law, Wayne Pierce (Gloria), Keith Pierce (Jane), Barry Pierce (Bonita), Terry Pierce (Stephanie) and Roderick Pierce (Terri Leigh), all at Harbour Breton; sisters in law, Wanda Pierce (Paul) at Gambo and Collette (Brendan Hickey) at Harbour Breton; special friends, Ken and Wanda Loveless; all his close friends at Salmonier; as well as a large number of nieces, nephews, and many wonderful friends.
Roderick was predeceased by his parents, Wallace and Gertrude Loveless; parents in law, Norman and Rosalie Pierce; brother in law, Ivan John Pierce; sister in law, Rosemary Pierce; niece, Averee Pierce; brothers in law, Silas Baker and Maxwell Matthews.
Visitation was held from 6:00pm to 9:00pm on Saturday, January 7, 2023 at the Salvation Army Church in Seal Cove. Family Service was held at 7:00pm.
A Service of Thanksgiving for Roderick took place on Sunday, January 8, 2023 at 2:00pm at the Salvation Army Church in Seal Cove with Majors Richard and Trudy Mouland officiating.