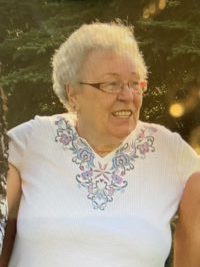 Bonnie June Wager
May 8, 1944
-
September 7, 2021
Bonnie Wager passed away unexpectedly on Tuesday September 7, 2021 at the University Hospital of complications from a stroke she experienced on August 29, 2021. She fought till her last breath.
Bonnie June Magee was born in Oshawa, Ontario, baby sister to big brother Ken on May 8, 1944. Bonnie's early life was spent in the care of her dad Clarence (Ken) and her Nana, Mrs. Mabel Foreman, and Nana's family, whom Bonnie considered her siblings.
Her earliest job was at GM CANADA in Oshawa, Ontario. It was while she was working here that she met Paul Wager. Falling in love after meeting, they quickly became an inseparable couple.
In 1977, Paul and Bonnie, along with sons Jamie and Randy, made their way to Edmonton, Alberta where they made their home, and formed lifelong friendships.
Bonnie was always supportive of her friends and family and very vocal about her thoughts and feelings. When Bonnie was with you, you knew you had a friend at your side. She was always willing and able to give a helping hand, whatever it was. She had a practical sense of humour and said it like it was, all the while making you see that what she was saying was right on.
Bonnie loved animals, especially dogs and cats. Jiggs, Tenobi and Gerri are just some of the chows that Paul and Bonnie adopted over the years. Scottie, Paco and Chico were her "fur babies" when Paul and Bonnie didn't have a pup of their own these last few years. Didn't matter though - she mothered and cared for them like her own; even wanted an occasional sleep-over because she missed them so much. Peaches the cat will miss her.
Bonnie has left behind her husband Paul, sons Jamie and Randy, and beloved grandchildren Jesse (Jamie), David (Randy) and Miranda (Randy), as well as all her closest family members in Edmonton and Oshawa. Friends are too numerous to mention - there were so many.
She will be missed by so many of us.
Rest in peace Bonnie. Somehow we'll manage without you. You will always be in our hearts.
Bonnie requested cremation and no service. She wanted no tears to be shed. She wanted us all to remember her for who she was, have a laugh, have some food and fun with her spirit there among us.
A celebration of Bonnie will be announced at a later date.