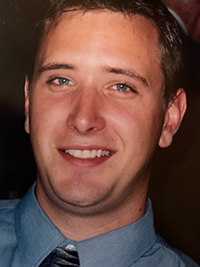 Ian Cochran
Passed Away
June 29, 2021
Beloved son of Hamish and stepmother Dianne, of Central Island, BC; and mother Miriam of Gabriola Island, BC. Ian, 43, died peacefully at home in Edmonton after a lengthy illness.
Ian was born and grew up in Calgary, graduating from William Aberhart High School in 1996. He qualified professionally with both 5th and 4th Class Power Engineering Certificates from SAIT in 2001, and worked widely in the oilfield service industry.
Quiet and gentle by nature, he nonetheless possessed a keen sense of humour and specially enjoyed gatherings with friends and family. He was proud he was named after his grandfather, Ian, of Edinburgh, Scotland, who predeceased him in 1998.
Possessed of good hand/eye coordination skills and tall of stature, he excelled at most sports, in particular hockey where, as a youngster, his team mates called him "little Al" (after Al MacInnis, Calgary Flames) because of his defenceman's scoring slap-shot; rugby where he played prop forward or number eight as required; snow and water skiing; and golf where he hit a number one iron with laser-like precision. As a hobby, he enjoyed woodworking, crafting oak cabinets, coffee, TV and night tables, and professionally finishing oak panelled and wainscoted rooms at his family homes, a craft that he learned at Evans Consoles, Calgary, as an apprentice from 1997-2000.
Ian was the youngest of four siblings so left to mourn his passing are sister Sheona Pipes (Peter), of Riverview, NB; brother Andrew (Sevanne), of Canmore, AB; and sister Emma Maciborski (Walter), along with their children, of French Creek, BC; as well as numerous relatives in Canada, the United Kingdom, and Germany.
Rest in peace, Ian, until we meet again. You are sorely missed but will be keenly remembered by all with much love and affection.