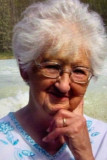 Ruth L. Wall
August 16, 1928
-
March 17, 2022
Ruth L. Wall, long time Pastor and Pastor's wife to the Grande Prairie area was peacefully called home on Thursday, March 17 at 10:40 am.
She is survived by her two children: Lisa Alexandre and Greg (Bev) Wall; three grandchildren: Dallas (Jolene) Alexandre, Nicole Alexandre and Paige Wall; four great grandchildren Jade, Hailey, Charlie and Chloe Alexandre.
Ruth was born in Honeybrook Pennsylvania on August 16, 1928, and lived in the Morgantown area. She worked actively on their family farm, and as young woman she started working as a receptionist for New Holland Farm Equipment before engaging travel with mission trips for the Mennonite Church. One trip was a volunteer mission to Hannibal, Missouri where she helped to type content for an author, Christmas Carole Kauffman. During this time she heard about a camp cook position at Rocky Mountain Mennonite camp in Pikes Peak, Colorado which she accepted and worked for a summer. Ruth also was involved in mission trips to local prisons where she had the opportunity to sing and minister. After marriage she learned the art of floral arranging for which she had quite a green thumb, and in her later years Ruth took on as a hobby sketching and painting, these gave her great enjoyment. Let's not forget fishing, there was always so much excitement and joy when Ruth had a line in the water, and when she landed a fish, well her stories are as big as they come.
In 1953 she met the love of her life, Jim, and they married in New York on August 25, 1956. They settled in Alden, New York where they adopted their two children, Lisa and Greg. The family moved to Phoenix, Arizona; here in 1974 Ruth was diagnosed with inoperable breast cancer, however God had different plans for her and Ruth was fully healed and the breast cancer was no more. The Wall family moved to Montrose, Colorado, here the Lord continued to work on Jim and Ruth and their faith grew deep and strong . When they were ready God called the Wall family to Canada in 1979, it was here they began a journey led by God, and started Believers Full Gospel Assembly of Grande Prairie. Ruth spent a full life serving God and opening her door and her arms to so many people, so many of them are considered adopted into their family today.
Ruth will be missed, but she is alive in our hearts and now at peace with our Lord.
There will be a Celebration of Life planned on May 28, 2022 at Believers Full Gospel Assembly, 10711 100 Street, Grande Prairie at 11am.